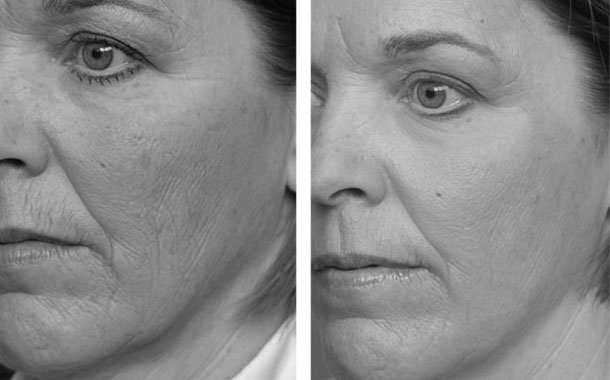 Fractional lasering is a non-invasive treatment that is executed with a device that delivers a laser beam divided into thousands of microscopic zones, targeting a certain fraction of the skin at a time. This treatment was the first that has bridged the gap between ablative and non-ablative laser techniques applied to heal sun-damaged and aging skin.
Despite of the fact that ablative treatments penetrate mainly into the epidermis (surface skin cells) and non-ablative ones treat only the dermal collagen (mid-layer of the skin), fractional laser covers both the epidermis and the dermal layers of the skin.
What is fractional laser good for?
Though the main purpose of fractional laser treatment was to treat pigmentation disorders, such as melasma, it was discovered to be efficient in dealing all with facial lines and wrinkles, sun damage and surgical or acne scarring. The most frequently treated areas are the neck, chest and hands but any parts of the body can be covered indeed. Fractional lasering can be combined with other treatments or even surgeries as well, and can be suitable for everyone, depending on age, skin type, sun exposure and body location.
How does it work?
To start with, it is important to know that as a consequence of aging, both the characteristics and appearance of the skin changes. As the epidermis gets thinner, blemishes become more visible and after collagen production in the dermis gradually decreases, the skin starts sagging along with the formation of wrinkles and facial lines.
By targeting both the epidermis and dermis, facial laser treatment is able to expel old epidermal pigmented cells while penetrating collagen in the dermis, causing a reaction that stimulates collagen production. By using microthermal zones (MTZs), the laser intensively targets the problem area without harming the surrounding healthy tissues, which hence remain unaffected and can promote wound healing. Thanks to this, the healing process of a fractional laser treatment is much shorter than if intact tissues were also affected by the laser.
Side effects and risks
Of course, side effects can vary for everyone, but in most cases, shaving and wearing makeup soon after the treatment is general. Besides, depending on the skin conditions, patients are usually able to return to their normal life after treatment or the following day. Although, side effects can occur particularly on the neck, including crusting, excessive desquamation, swelling (up to one week after treatment), post inflammatory pigmentation, acneiform eruptions, bacterial or candida inflections or contact dermatitis. In case of experiencing any of the mentioned issues, it is indispensable to consult with a specialist.
In order to refresh your appearance by giving a collagen boost to your skin, do not hesitate to book an appointment with our specialist via info@cocoonmedicalspa.com.