Promo: SUPERFOOD or COLLAGE DRINK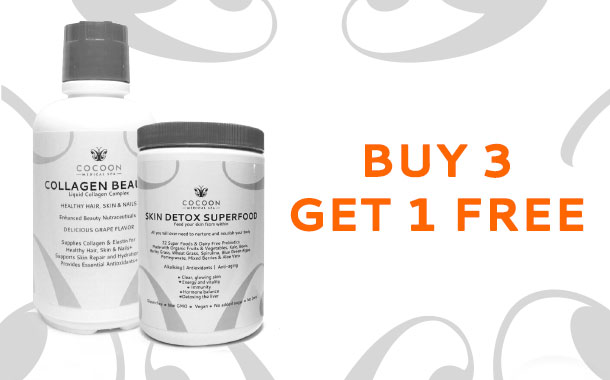 Everything your body and skin needs in 1 scoop a day
Try our SUPERFOOD or COLLAGEN DRINK and feel the difference in few days.
COLLAGEN BEAUTY
Increase your collagen level with the best supplement.
Improve your skin, hair and nails naturally.
BENEFITS:
Supplies Collagen & Elastin for Healthy Hair, Skin & Nails
Supports Skin Repair and Hydration• Provides Essential Antioxidants
SKIN DETOX SUPERFOOD
This alkalizing, whole food blend of fruits, vegetables, probiotics, and greens helps support digestion, energy levels and immune health.
† These refreshing drinks are only 70 calories with 4 grams of fiber, per serving.
SKIN BENEFITS:
Diminishes the appearance of fine lines and wrinkles
Stimulates the creation of more perfect, younger looking skin
Nourishes and hydrates dry and sensitive facial skin
Natural, healthy glow
Softens coarse and dry male skin
Improves the vitality of the skin at a cellular level
Delivers fast, visible in just 3 weeks!
BUY 3 GET 1 FREE in JULY
BEAUTIFUL SKIN STARTS HERE:
info@cocoonmedicalspa.com
Terms and conditions:
– Cannot be combined with any other promotion or discount.
– Promo valid till end of July 2017.
– All prices are subject to 10% government tax and 10% service charge.