Snail Serum Facial Package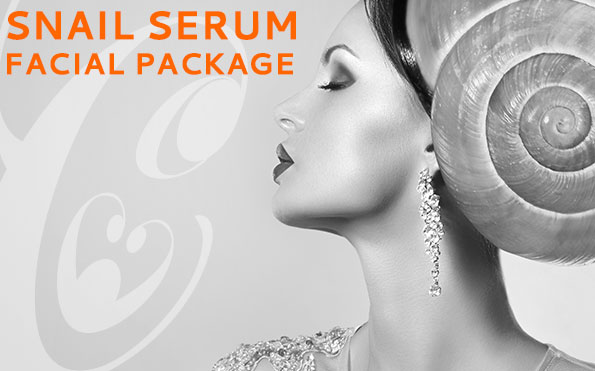 The science of snails
Having a Snail Serum Facial Package may sound initially a little yukky and gooey to us at first, but it's actually one of the most popular anti-aging products around, with rich properties to repair cells and regenerate collagen.
Snail slime has been around for centuries as a skin rejuvenation treatment as it is renowned for its regenerative properties.
Now the Koreans, who are at the forefront of skin science and aesthetics, has reintroduced the products in a much more palatable and comfortable way for us.
Snail secretion was first discovered when snail farmers noticed their hands looking younger and smoother, and cuts and scrapes healed faster.
Since then, snail slime or mucin has been used for anti-aging facials – as it helps regenerate and restore damaged skin and wrinkles. The super intensive secretion is extremely rich in protein, hyaluronic acid and anti-oxidants
Don't worry, there are no slimy snails crawling over your face. Our Cocoon Snail Serum facial is based on the most intensive formula from Korea – Dr. Jart+, which has 77% snail mucin extract.
Cocoon's Snail Serum Facial package includes:
Diamond Microdermabrasion – to remove all dead skin cells and create the way for your skin to absorb the nourishing products
Dr Jart+ Time Returning 77% Snail Mucin Serum infused with Oxygen Jet
LED red light therapy to stimulate the production of collagen
Gold or Snail Mask for 20 minutes to absorb into the skin
Dr Jart+ Time Returning Snail cream
Terms and Conditions:
– Cannot be combined with any other promotion or discount.
The results you can expect
This super intensive facial with concentrated snail serum maximises skin elasticity and facilitates the restoration of damaged tissues, it hydrates and replenishes water and moisture and speeds up the skin's cell renewal and restores the skin structure.
And you can relax when you know that this product comes from nature, and built for nature. There are zero parabens, sulfates, artificial colours or alcohol.