cocoon liquid multi peptide serum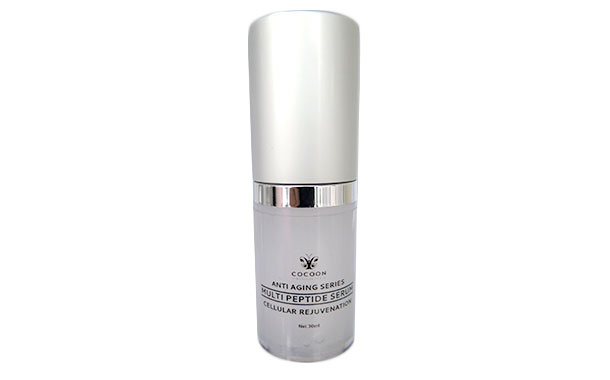 cocoon liquid multi peptide serum
Cocoon's advanced Multi Peptide Serum (30 ml) is a high potency anti-aging formula.
It contains similar ingredients to the infamous "Instantly Ageless" cream – Argireline, Matrixyl 3000, combined with Squalane and Hyaluronic Acid which stimulates collagen production to help reduce fine lines and wrinkles. This serum promotes your skin's natural healthy collagen growth, and firms the skin. It boosts youthful radiance, help correcting hyper-pigmentation, leaving your skin appears and feels tighter, firmer and suppler. It assists with smoothing the appearance of fine lines, wrinkles and other visible signs of aging.
Directions for use:
Cleanse face, take an appropriate amount of serum, apply onto face & neck, gently massage to help being absorbed. Recommended use morning and night.
Ingredients:
Active (Aqua), Squalane, Collagen, Glycerin, Rose Hip Oil, Cyclomethicone, Propylene Glycol, Sorbitol, Beta Glucan, Argireline Matrixyl 3000, Hammamelis Virginiana Extract, Glycereth- 26, Ayena Sativa Extract, Aloe Vera Extract, Ceramide III, Folic Acid, Vitamin C, Triethanolamine, Carbomer, Hyaluronic Acid, PEG- 40, Hydrogenated Castor Oil, Phenoxyethanol.
550.000Rp
Buy direct from Cocoon, using PayPal or BANK Transfer.
Email info@cocoonmedicalspa.com to place your order.
Or use form below