cocoon multi peptide moisturiser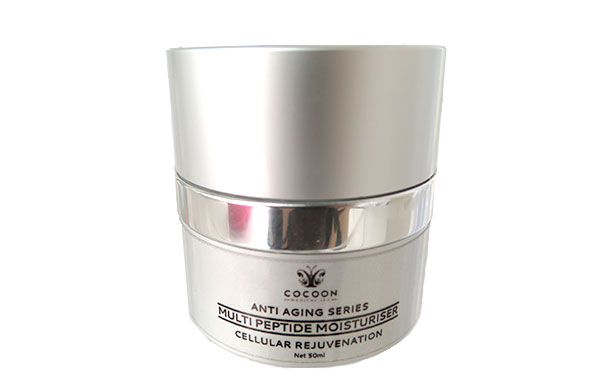 COCOON MULTI PEPTIDE MOISTURISER
The Multi Peptide Moisturiser (50 ml)  is one of the most scientifically advanced product in skincare technology. Significantly smooths the skin surface, visibly reducing fine lines and wrinkles. The multi peptide in this moisturizer helps to stimulate the skin's natural repair mechanism, thus promoting collagen production resulting a reduction in fine lines and the production of the new skin tissue.
Argireline is a kind of "liquid botox" alternative that helps relax / ease tension in the face, thereby eliminating wrinkles.
Matrixyl 3000, by stimulating the production of collagen & elastin, works in conjunction with Hyaluronic Acid to fill in lines & wrinkles while restoring elasticity. Matrixyl 3000 also supports vibrant skin through the cessation of blemishes and the removal of impurities.
Cocoon Multi Peptide Moisturiser contains no parabens, no sulfates, no animal testing.
Cleanse face, take an appropriate amount of cream, apply onto face and neck in circular motion. You may use the cream as frequent as needed.
Ingredients:
Active (Aqua), Squalane,, Glycerin, Hyaluronic Acid, Propylene Glycol, Betaine, Dicaprylyl Carbonate, Cetearyl Glucoside, Beta- glucans, Dimethicone Argireline, Matruxyl 3000, Grape Seed Oil, Avena Sativa Extract, PEG- 100 Glycerol Stearate, Ceramides, Green Tea Extract, Panax Ginseng root extract, Linden Tree Leaf extract, Vitamin E.
550.000Rp
Buy direct from Cocoon, using PayPal or BANK Transfer.
Email info@cocoonmedicalspa.com to place your order.
Or use form below