COCOON'S DERMAROLLER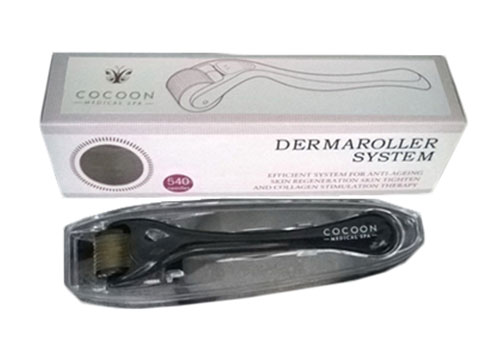 COCOON'S DERMAROLLER
Dermaroller is great anti-aging, stretch mark and pigmentation solution which is incredibly effective even for hormonal pigmentation and old stretch-marks, some of the hardest skin issues to treat.
Dermaroller is a natural way to improve the appearance of the skin and reverse the signs of aging.
Dermaroller system works on:
Acne scars
Pigmentation
Age spots
Wrinkles
Scarring
Stretch marks
It provides advanced skin micro-surgical needling, a procedure that stimulates the skin to regenerate and repair itself naturally and safely, creating smoother, brighter, healthier and younger-looking skin.
Apply Cocoon's anti-aging gold serum and cream for maximum results.
Needle sizes available:
0.5 mm – for everyday use (all skin types). For those who have never used a Dermaroller before, this is the best one to start with.
0.75 mm – If you have had some experience with a Dermaroller before, then you can upgrade to this size.
1 mm – best for improving scars – old acne scars or surgery scars.
330.000Rp
Buy direct from Cocoon, using PayPal or BANK Transfer.
Email info@cocoonmedicalspa.com to place your order.
Or use form below
MORE ABOUT DERMAROLLER
Dermaroller instructions and Care:
Use the roller as part of your daily routine – you can roll every day although we recommend allowing your skin at least a couple of days of rest each week.
Apply the Cocoon Serum everyday and then roll the Dermaroller in different directions, applying slight pressure and/or make additional rolls of the device. One of the benefits of using your roller is the boost in absorption rates of topical products. Nourishing your skin throughout the process will bring major benefits.
You may experience a slight reddening of the area after treatment. This will fade quickly but dependant on your method, it may last for up to 24 hours. We strongly recommend either staying out of the sun for this period or using a sunscreen to protect yourself.
Please take care when using the Derma roller on your face and never use the Derma roller on your eyes or lips.
Possible Side Effects:
Your skin is likely to redden after use. This should fade within a few hours. In extreme cases, this may last for 24 hours. It is possible that you will experience dryness of skin after rolling. This can be accompanied with some flaking of the skin. If you do suffer in this way, stopping rolling should allow the skin to return to normal within a few days. Please use common sense in these cases – reduce the frequency with which you use the roller and ensure you are using Serum and Moisturizer after use. If still in doubt or the flaking continues, either stop using the roller or contact us for further support.
Important Safety Info:
Never share your Dermaroller with other people.
Do not use a Dermaroller on areas of sunburn, open cuts or other sore and tender areas or if you are suffering from active herpes outbreaks or skin inflammation.
Unless you are disposing your roller after use, when you have finished using the device, rinse it under hot running water. It is best to stand the Dermaroller's head in some disinfectant (rubbing alcohol) for approximately one minute. Completely dry and keep in a safe place.
Keep it in a clean and always with the cap on it. Never ever rest it on a dirty surface.
If you drop this on the floor, dispose of it immediately.
The Dermaroller can last up to 20 treatments with the proper handling.
Please contact us at any time if you have any questions.

We are not responsible for any unfavorable results which may be derived from improper use of this product.