Skin Care And Beauty Of The 70s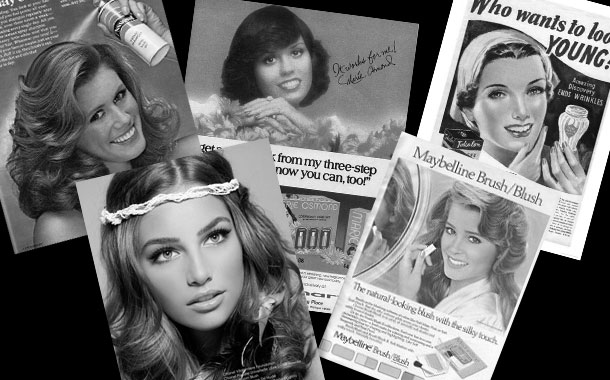 SKIN CARE
Having introduced multi-step skincare processes in the 1960's, people of the 1970's were already using cleansers, toners and moisturizers day by day. As the demand for organic products was growing, cosmetic companies started to incorporate natural ingredients into to their products. Other brands in this field started to emerge displaying an image of scientific authority. White coated employees behind white make-up counters were welcoming the clients.
The 1970's was the decade that was all about feminism and the rising of women's liberation movement. They were fighting for equality in many areas of modern life – and at the same time, they were refusing to put obvious make-up on their faces in order to make men happy. Instead, they were opting for a more natural look and lighter foundations – which gave a boost to the market of skincare products. Anti-aging cosmetics also started to become more and more important.
MAKE-UP
The aim here was to keep the skin as natural as possible. Foundations in these days were marketed as sheer, invisible and barely there. A nice bronzed, tanned complexion was the goal of many women – it was seen as the sign of wealth and being well-traveled.
Blushers were light and neutral – just until the disco era when they were replaced by strong stripes of orange and fuchsia pink.
As far as eyes were concerned, smokey eyes were a big hit for the evening. Emerald green and rich purple were among the most popular eye shadow colours, finishing it with plenty of glitter.
Red lipstick made their huge come-back in these years, with a real glossy shine. Consciously breaking traditional make-up rules, women paired their red lips with a heavy eye make-up. At daytime though, they were opting for nude colours, glossy pink and brown.
+ HAIR STYLE:
Center parted hair was an absolute favourite. Paired with a hint of wave around the face, was a typical 70s look.
'Feathered hair' was also a dream hairstyle back then – remember the long, wispy, 'feathered' layers with a blunt bang? …
Tell us: what was YOUR beauty secret in the 1970s? Or, which one would you absolutely try now?
https://cocoonmedicalspa.com/wp-content/uploads/2019/04/Skin-care-and-beauty-of-the-70s.jpg
380
610
omarketingbali@gmail.com
https://cocoonmedicalspa.com/wp-content/uploads/2018/12/Logo-Cocoon.png
omarketingbali@gmail.com
2018-07-27 16:52:11
2020-08-20 07:26:06
Skin Care And Beauty Of The 70s