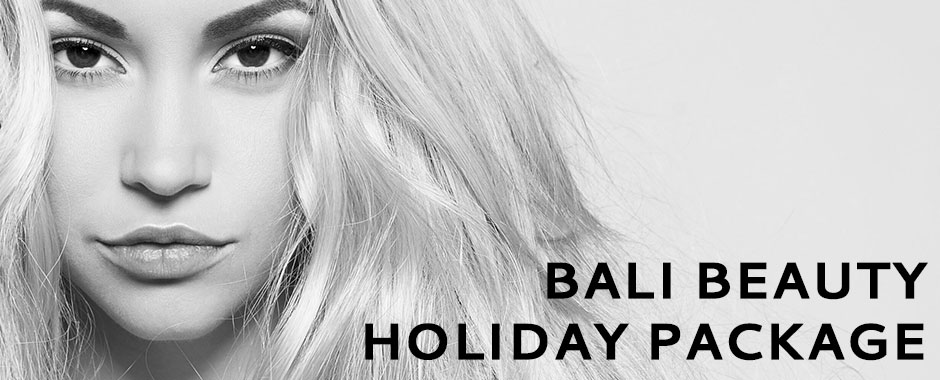 All Inclusive Holiday Packages Bali
Introducing the most perfect affordable holiday:
Cocoon's beautiful holiday package, combining luxury accommodation together with our Cocoon cosmetic treatments.
All inclusive price for 6 nights in one of the most beautiful resorts in Bali
Our all inclusive holiday includes:
3 bedrooms accommodation for up to 6adults
All transfers to/from airport and Cocoon Medical Spa
Car and driver on standby 8 hours a day to go to your choice of tours – for example: shopping, temples, Ubud Monkey
Forest, elephant riding, chocolate making (tickets for entry and expenses during tours not included)
Mobile phone for your use during your stay to contact your customer service manager
Package price all inclusive: $4,480 USD for 6 nights per villa

 
(accommodation up to 6 adults. treatment for 1 adult)
Additional nights: $380 USD per night per villa (Up to 6 Adults)
Additional adults having treatments: $2.200 USD per person

info@cocoonmedicalspa.com
Treatments  
Health and medical screening by qualified Doctors – Body impedence screening, Lifestyle analysis
3 x Velashape Ultrasound Cavitation, Radio Frequency and Mechanical suction pressure
3 x Fat massage, deep tissue
3 x PPC Injections – 10ml
3 x Colon Hydrotherapy
3 x Oxygen Bar sessions
3 x Vitamin Infusion
3 x Infrared Sauna
5 days pure juices delivered every morning
Choose 1 facial treatment: Radio Frequency, PRP full face, Laser full face, Cleopatra Facial
This price is for 2 adults sharing a room, and no extra taxes or service charges added. Please note: Price does not include flights, visas, tour entrance fees, and any personal expenses[/column]
[metaslider id=3432]
VILLA AMENITIES AND FACILITIES
Cocoon Club Residence Canggu  is a private and luxurious 3 bedroom villa to recharge amidst the beauty, warmth and rich culture of Bali. Surrounded by beautiful beaches and rice fields, guests can experience the ultimate in personalized service, the luxury of space and the true beauty of Bali.
The villa offers homely accommodation in a 2 minute stroll to Canggu Club and Canggu Plaza.
The villa is designed luxuriously to give each client a relaxing holiday with individual privacy. The villa is designed to connect living spaces to the soothing sights and sounds of the natural surroundings. Courtyards and private spaces open to the sky, letting in natural light and the ocean breeze. An outdoor pavilion is the perfect place from which to relax and enjoy the views by day or by night. Custom designed interiors offer the absolute height in luxury and hi-tech functionality.
All guests staying are entitled to the following villa amenities and facilities:
Complimentary Wi-Fi access
Satellite TV Channels
Daily housekeeping
Private balcony and terrace with sun loungers
Relaxation pavilion
En-suite bathroom with bath tub, indoor and shower