FLAWLESS SKIN TONE & TEXTURE
WITH ITALY'S NUMBER 1 LASER
LASER 3D BY QUANTA
Get healthier, more beautiful skin at any age – for an itty bitty Indonesian price.
Cocoon Medical Spa is proud to announce the launch of Quanta LASER 3D Skin Rejuvenation. Coming from the home of Ferarri – Italy – this laser is favoured by the world's most beautiful models, and is now offered in Bali.
Fractional CO2 – this is one of the most effective treatment for renewing the skin without the side effects and pain of the conventional CO2 ablative laser treatments. The unique benefit of the Quanta laser is that it creates microchannels deep into the skin, renewing the skin but without high pain, and risk of burning the skin. The CO2 laser provides quick recovery, reduced discomfort and excellent skin rejuvenation results.
Eribum – this non ablative skin resurfacing goes deep into the epidermis of the skin and stimulates the natural production of collagen, giving beautiful skin results including firming, smoothing and improving skin tone and texture.
With these two technologies working together in a dual mode means that this laser targets and rejuvenates different layers of the skin, creating new collagen to tighten, tone and reduce pigmentation.
This laser is adjusted according to your skin type and areas of concern. Using microablative skin resurfacing, it will reduce acne scars, pigmentation, sun damage, vascular lesions, large pores, wrinkles, uneven texture, blocked pores and capillaries. And all in just 1 treatment, with little pain and downtime.
* Visible results * Low pain * High safety * Short downtime *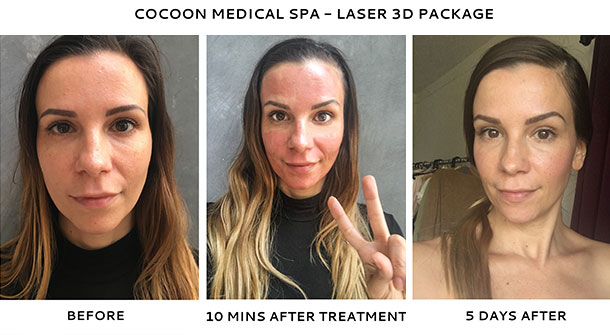 LASER 3D Benefits include:
Reduce pigmentation, melasma and sun damage
Reduce fine lines and wrinkles
Improve the appearance of old acne scars and pits
Stimulate natural collagen growth
Reduce the size of pores
Even out skin tone
Whiten and brighten the skin
Immediate skin improvement in just 1 treatment. For best results, we recommend a package of 3, with 1 month in between treatments.
BEAUTIFUL SKIN STARTS HERE:
INFO@COCOONMEDICALSPA.COM
Terms and Conditions:
– Promo cannot be combined with other discounts.