Why it is safe to come to Cocoon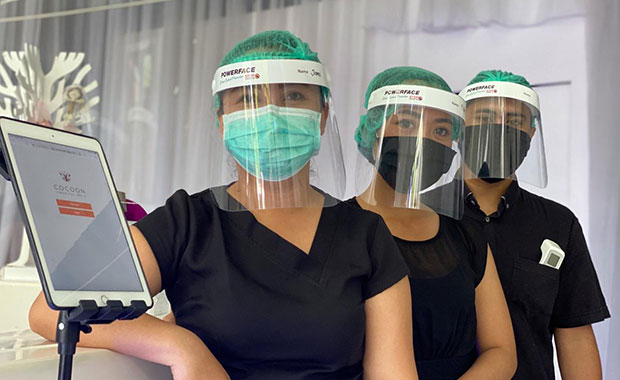 At Cocoon Medical Spa, as a cosmetic facility, we have always taken special care of hygiene and the comfort of our customers. It is the same in hard times also – what is more, we applied even stricter and higher hygiene standards than ever before. We are aware of all the fearful aspects of this difficult period, which is why we now share everything you should know about our safe and secure hygiene standards.
1. Openings hours
First and foremost, after completely closing both of our clinics in Ubud and Legian, we are now open again but with reduced opening hours in order to limit appointments and ensure social distancing for our guests. The Legian clinic is open only on Monday and Wednesday between 10am and 5pm, the Ubud clinic is open on Friday from 10am to 5pm. In this way, we can safely avoid our guests to get in touch and our staff to meet less people.
2. Safe entry policy
Entering any of our clinics is allowed only with wearing a mask. We provide a hand washing station in front of the entrance and further hand sanitizing stations at the reception, in the treatment rooms and every public area of the clinic. Moreover, arrivals are followed with temperature check which we regularly do also for Cocoon staffs too.
3. Declaration form
After getting over the initial hygiene steps, a declaration form is required for all clients. It includes questions about any possible recent travels and completed self-isolation, and contacting with anybody having or suspected of having COVID-19. In case of any problem, this information is indispensable.
4. Facial shield
We ensure total safety protection with our custom-made facial shield which provides a protective barrier between the professional and the client during any type of treatment. Thanks to the thermoformed and ergonomic acrylic structure, these shields are hygienic and can be easily disinfected after each customer. It is completely transparent with adjustable height and wheels to be comfortable for the professional and to easily fit any spa beds and chairs.
5. Safe staff wear
For our staff, we provide a full protective addition to their uniform, which includes mask, face shield and gloves. All of them are regularly replaced according to occupational health standards to maximize hygiene protection.
6. Sanitizing and staff instructions
The whole clinic is regularly sanitized in every hour, with specific care in case of treatment rooms and beds/chairs after use. In order to keep our staff up-to-date, we constantly inform them about the current situation and changes, and give them clear instructions along with trainings about the specific measures to maintain safety and health.
Health protection and hygiene is in our common interest, for which we ensure that each of our clients are handled with the highest care and protection. If having any questions, write us to info@cocoonmedicalspa.com.
https://cocoonmedicalspa.com/wp-content/uploads/2020/06/Hygiene-Standards.jpg
380
620
Bianca
https://cocoonmedicalspa.com/wp-content/uploads/2018/12/Logo-Cocoon.png
Bianca
2020-08-18 05:52:43
2022-03-22 10:00:29
Why it is safe to come to Cocoon